2023 World Electronics Achievement Awards (WEAA) ceremony was held in Sheraton Shenzhen on November 2. Fortior Technology won "Microcontroller/Interface of the Year" for its AEC-Q100 qualified "dual-core" motor drive chip EU6866Q1.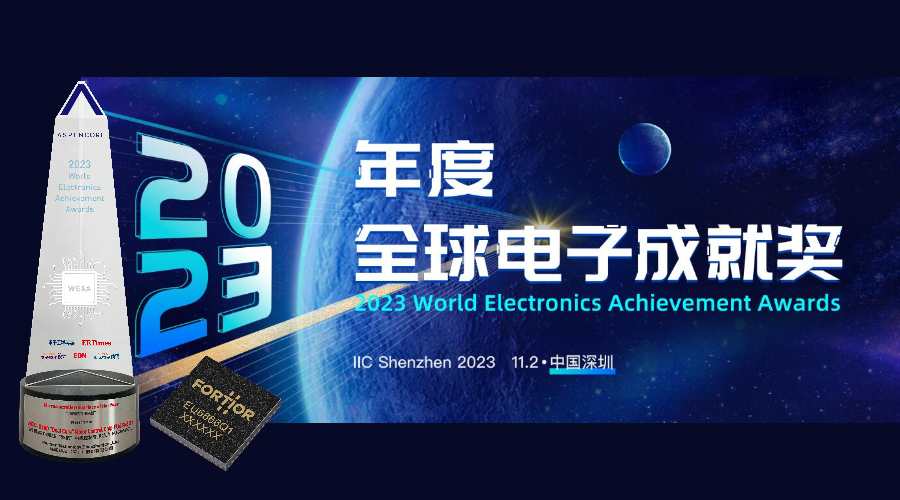 The World Electronics Achievement Awards (WEAA) honors companies and individuals who have made outstanding contributions to the innovation and the development of electronics industry worldwide. WEAA are praised by many and represent one's leadership and excellent performance within the electronics industry. Winners will be elected by the committee comprised of ASPENCORE global senior industry analysts and online users from Asia, the U.S. and Europe.

EU6866Q1 is a "dual-core" and high-performance motor drive chip that is specially developed and designed for automobile motors. It integrates various observers, and is especially suitable for sensored/sensorless FOC, sensored SVPWM or square wave control of BLDC motors in high load-low speed and high-precision control applications. The chip has passed AEC-Q100 certification by SGS and can be used for BLDC motors in electrical cooling fans/electrical pumps/valves/air blowers/windshield wipers for vehicles, car refrigerators, car seats, active grille shutters, seat ventilation, sunroofs, car windows, air-conditioning outlets etc.