Organized by JMA Japan Energy Efficiency Association, TECHNO-FRONTIER 2022 INDUSTRY-FRONTIER 2022 consists of 16 specialized exhibitions on key technologies for electronic devices, electromechanical control integration, semiconductor design, and application, etc. The three-day exhibition was held at BIG SIGHT in Tokyo from July 20th to July 22th with over 20,000 professional visitors from more than 1,000 companies all over the world, where information on the latest technologies and products in related fields was gathered.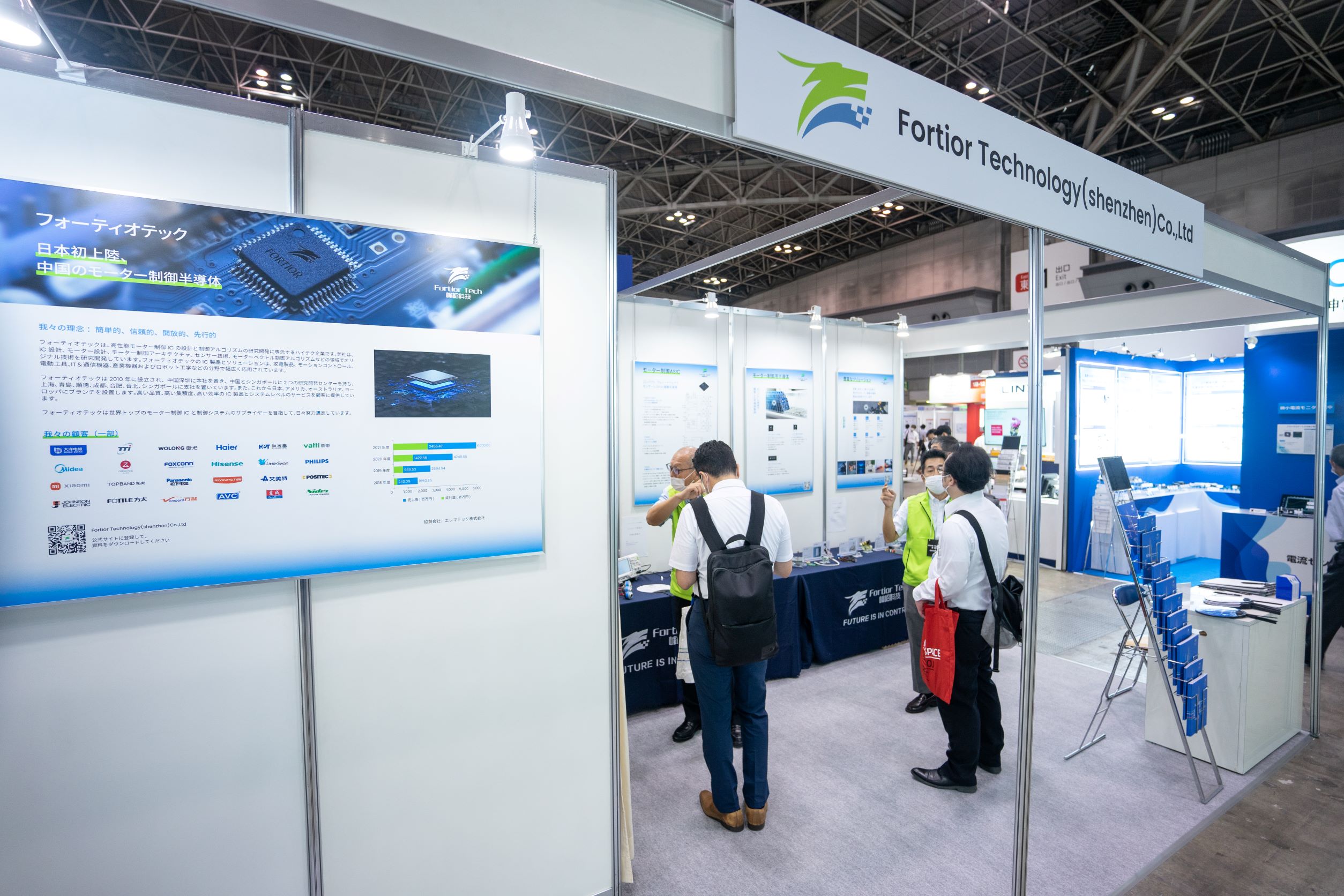 Fortior technology starts a new journey in overseas market
Immediate response and system-level service is a major advantage of Fortior Technology in market competition. We focus on providing customers with comprehensive sales service, project development and service support, enhancing customer trust and satisfaction, responding quickly to market demand and striving for a larger market share.
The participation in TECHNO-FRONTIER 2022 INDUSTRY-FRONTIER 2022 professional exhibition marks the beginning of a new journey of overseas market expansion for Fortior Technology. Mr. Bi Chao, the CTO of Fortior Technology, went to the exhibition from Singapore to give the greatest confidence and encouragement to the new journey of the Japanese market of Fortior.
Our self-developed innovative drive technology
From the beginning of our establishment, we have focused on the research and development of high-performance motor drive control chips, starting from the independent development of motor control processor core architecture, and gradually building our intellectual property rights chip product architecture. The chip products of Fortior Technology have achieved the same or even better results than other similar products in many aspects such as technical parameters and control performance and are recognized by the end manufacturers. As a technology-oriented company, technological innovation is the key to achieving the strategic goals of the company. We have researched application areas such as home appliances, power tools, computers and communication devices, and sports and travel to achieve innovative chip products, excellent control algorithms, and overall solutions that effectively solve the technical pain points of application areas to meet the growing needs of downstream application areas.
Fortior's MCU, ASIC, power devices, and other series of highly integrated dedicated chips and rich application solutions for consumer electronics and industrial control were presented at the exhibition, and received enthusiastic attention from Japanese professional visitors and industry partners.